Restaurant and gastronomy
In order to make your stay comfortable, pleasant and complete, we offer our Sensur Gastrobar Restaurant so you can discover the delicious flavours of the local gastronomy.
With a select variety of high quality products applied to our traditional way of cooking, our restaurant serves a wide range of dishes that enable guests to enjoy classic cuisine made with modern cooking techniques, all while being attended to by our efficient and professional staff.
Check out our new dishes! Scan the QR code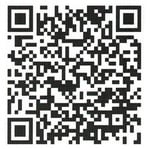 During your stay, you can use our restaurant on any of these board plans:
⋅
Buffet breakfast
⋅ Half board
⋅ Full board
when you contract one of these services directly in the hotel or when you book. In addition, we have a café with an extensive menu of sandwiches, baguettes and a varied breakfast that will meet your needs at any time.
Plan your romantic Valentine's Day lunch or dinner with us. The best gift for Valentine's Day, a romantic evening with your partner.